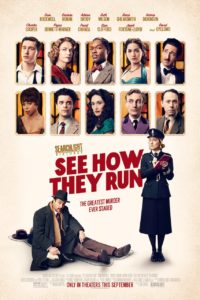 Loved Knives Out and can't wait for the sequel? See How They Run may help fill the time. It's sorta Knives Out light… a comical murder mystery featuring an A-list cast led by Sam Rockwell (Three Billboards Outside Ebbing, Missouri, Jojo Rabbit), Saoirse Ronan (Little Women, Lady Bird) and Adrien Brody (The Pianist) in a farcical blend of fact and fiction. A whodunit within a whodunit.

The story takes place in early 1950s London, in the West End (aka the theater district). Obnoxious and arrogant Hollywood director Leo Kopernick (Brody) is poised to direct a movie version of a long-running hit play, Agatha Christie's The Mousetrap. Those plans come to an abrupt halt when Kopernick is murdered. The case is assigned to world-weary Scotland Yard detective Inspector Stoppard (Rockwell) and (much to Stoppard's chagrin) eager rookie Constable Stalker (Ronan), a devoted cinephile determined to crack the case and move up in the ranks. Together, the pair interview the ever-growing list of suspects and dive into a theater world ripe with glamour, betrayal, blackmail, revenge, rage, passion and suspicion. As with any good mystery, there are twists, and red herrings and clues dropped with a mix of subtlety and satiric bluntness.
Fans of satire and mysteries– and especially those familiar with Agatha Christie and the history of "The Mousetrap"– are likely to most appreciate this quirky, sometimes campy and often stylish film. It's not quite the 'total package' that Knives Out delivered (at least in my view; Arty Chick was far less enamored). But Rockwell and Ronan are always interesting to watch and continue to showcase their versatility. And the film marks a solid feature directorial debut for BAFTA-winning director Tom George ("This Country"). See How They Run isn't a laugh out loud comedy so much as a 'chuckle at a witty line here and there' experience. Does it need to be seen on a big screen? I don't think so. But it is worth keeping an eye out for as a stream or rental option.
See How They Run is rated PG-13 and hits theaters on Friday, September 16.