Growing up, it was a rite of passage to get "Are You There God? It's Me, Margaret" out of the library and plow through it, along with a stack of other Judy Blume books that captured so perfectly the fears, joys, relationships, and angst of adolescence. Fast forward several decades (for some of us), and the classic novel is finally making it to the big screen. And thank you, god, it's actually quite good. It's sweet, poignant and true to the book, which I re-read in advance of the screening. Because, let's face it, all I really remembered was that it provided some valuable insights on getting your period, playing spin the bottle, and chanting "We must, we must, we must increase our bust!" Ah, the joys of puberty!
The coming-of-age story itself is timeless, so I half expected a cinematic adaptation mired in the modern age of cell phones, social media and Taylor Swift tunes. That's not the case. This is vintage 1970s stuff. Avocado-colored kitchen appliances! Rotary phones! Station wagons!
For the uninitiated or memory-challenged, here's the gist: 11-year-old Margaret (Abby Ryder Fortson) is uprooted from her home in New York City when her dad takes a promotion and moves the family to- gasp! – the suburbs of New Jersey! That means new school, new friends, and all sorts of other "new"s complicated by the throes of puberty, FOMO (fear of missing out), and existential questions about God and religion. Margaret's mother was raised Christian; her father was raised Jewish; and both agreed to let Margaret choose her own religious path in her own time. As part of a year-long school project, she decides to test-drive her religious and spiritual options.
A strong supporting cast includes Rachel McAdams as Margaret's mother Barbara, an independent woman struggling to find her way as a stay-at-home mom in suburbia; Kathy Bates as Margaret's funny, loving, sarcastic and thoroughly New York grandmother Sylvia; and Elle Graham as Margaret's plucky neighbor and new best friend Nancy.
Are You There God? It's Me, Margaret was written for the screen and directed by Kelly Fremon Craig, who helmed the excellent high school drama The Edge of Seventeen, one of my favorite films of 2016. So once you've graduated from 'Margaret', check that one out!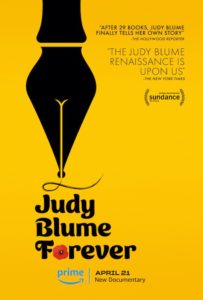 Are You There God? It's Me, Margaret opens on the heels of Judy Blume Forever, an Amazon Prime Video documentary about author Judy Blume, who for years resisted granting permission for a film version of her classic.
I highly recommend watching the documentary either before or after Margaret. Each informs the other.
In the documentary, Blume narrates much of her own story, sharing with the world the personal and professional peaks and valleys that got her where she is today. It's fascinating to revisit her books through the lens of her upbringing, parenthood, and marital challenges; and to appreciate the special connection she's built with readers over the decades. She is as frank and feisty as her characters, and at 85, a literary icon who continues to fight against censorship and preserve the integrity of her work.
And if you want to know about the scandalous nature of "Forever"– the book many of us used to sneak a peak at in the "adult section" of the library– the documentary touches on that as well. Who's curious now?
Are You There God? It's Me, Margaret. opens in theaters April 28.
Judy Blume Forever launches on Amazon Prime Video on April 21.
No Comments Yet
You can be the first to comment!
Leave a comment