It's amazing how quickly big movies are coming to streaming services these days. Sometimes they haven't even made it to the local theater before I get that Netflix notice that tells me they just added a movie I might like. These two just arrived in the last week.
Nyad
Jimmy Chin and Elizabeth Chai Vasarhelyi, the husband and wife duo who won an Oscar for Free Solo, bring another real-life extreme athlete story to the screen, only this time it is narrative film rather than documentary. The swimmer at the center of the tale is Diana Nyad (Annete Bening, The Kids Are All Right, The Grifters) and the film is adapted from her memoir. It's a truly amazing story about 60-year-old Nyad who was once a record-setting competitive marathon swimmer. Having failed in her attempt to swim from Cuba to Florida when she was 28, she's convinced that she can do it now. Her best friend Bonnie (Jodie Foster, The Silence of the Lambs, The Mauritanian) ) initially tries to reason with her, but when that doesn't work, she becomes her coach and is with her throughout the four years and five attempts it takes them to make it happen.
Nyad is not an easy woman by a long stretch. And at times it is hard to believe that Bonnie stayed around her for the duration. But what the film does well is show how over time Bonnie and the crew that she builds to take care of Nyad become a family invested in the ultimate success of the insane endeavor.  There are some extremely harrowing moments in the film (sharks, attacks of jellyfish, horrible flashbacks) and the action is well shot. But the biggest reason it works at all is that the two leads are such fabulous actors. It is worth seeing if only for their performances.
The Killer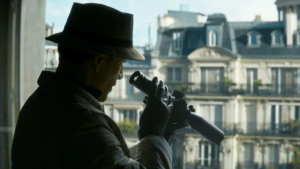 The other film I watched, which also had a nearly non-existent theater run before debuting on Netflix is The Killer from director David Fincher (Se7en, Zodiac, Fight Club), the story of a hit man who messes up a job, which makes him and the woman he loves a target. And in order to clean things up he has to kill everyone who is a threat to his future happiness. It's a pretty simple storyline brought to life by Michael Fassbender (Steve Jobs, X-Men). He's an unemotional killer whose interior monologue narrates large portions of the film. But when the bad guys beat up his girlfriend while looking for him, he loses some the self-control that usually serves his so well and goes for blood.
And that's what the film is all about. It's a revenge drama with very little in the way of character development. Pretty much A to B to C. Fassbender is great. The fight scenes are great. There is good tension in the set up of his attacks. It's one of those really well made movies that left me kind of wondering why I didn't like it a lot more than I did. Perhaps it's that I need a reason to want the hero to succeed, but there is no hero in this movie, and no character to care much about. Sadly, for me The Killer misses the mark.
I guess the good news is, you don't have to head out to the theater to see either of these flicks. Both are currently streaming on Netflix. Both have their audiences.