Currently browsing the "
Betty Gilpin

" tag.
Hey, look – it's Chris Pratt! In a sci-fi movie! With big mean monsters! How… familiar!
The biggest difference between The Tomorrow War and some of Pratt's other big action dramas (Guardians of the Galaxy, Jurassic World, Passengers) is that it's not opening in theaters. It's being released on Amazon Prime. That could be part of the reason I wasn't exactly blown away. It's possible my mere 42" TV screen diminished the film's impact, though not its audio levels. It got very loud in my living room during battle sequences. Sorry neighbors!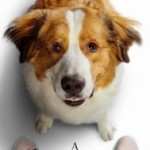 A Dog's Journey is for dog/animal lovers. It's a continuation of the heartwarming saga that got us all misty-eyed in the 2017 doggie drama A Dog's Purpose. In this sequel, Bailey (internal monologue voiced by Josh Gad) is getting up there in years, as is his "boy" Ethan (Dennis Quaid) and Ethan's wife Hannah (now played by Marg Helgenberger). It's getting to be that time for Bailey to move on – in body, not in spirit. Knowing that Bailey has a knack for reincarnation, Ethan asks the dog to find and protect his estranged granddaughter Clarity June ("CJ"). And thus begins Bailey's newest set of lives and adventures. His name, breed and gender may change over the years. But the dog never loses sight of his primary purpose – to keep tabs on CJ (Kathryn Prescott). It's a mission that evolves into helping CJ reconnect with her childhood best friend Trent (Henry Lau), mend fences with her selfish, alcoholic mother Gloria (Betty Gilpin) and potentially reunite with her grandparents.