Currently browsing the "
David Spade

" tag.
File this one under "lame escapism." I've taken to watching new films that are trending on Netflix since that's about as close as we can get right now to what's new at the box office. If I'd gone to see The Wrong Missy in a theater, I'd probably want a refund. But as quarantine entertainment, The Wrong Missy gets a wide berth. It's a formulaic, sometimes raunchy, sometimes absurd, occasionally funny adult romantic comedy starring an unlikely pair of romantic leads in comedic actors David Spade and Lauren Lapkus. It's not suitable for family viewing: There's significant over-use of the F-word; a lot of sexual content (albeit clothed); and some situational gags that clearly scream "don't try this at home."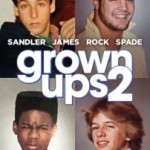 Grown Ups 2 is little more than a 'supersized' episode of a mediocre sitcom. It's got a few funny lines and sight gags – but nothing that would justify a recommendation to spend your hard-earned cash to see it in a theater. That said, I suspect that anyone who actually saw and liked the original Grown Ups movie in 2010 will like the sequel as well. You know who you are. Enjoy. As for the rest of you grown ups out there, take a look through some of our earlier reviews and find something else to see.