Currently browsing the "
john Lennon

" tag.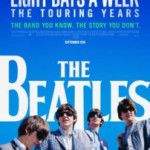 Fun! Fun! Fun! Yeah! Yeah! Yeah! This documentary from Ron Howard looks at the touring years of the greatest musical group the world has ever known. Okay, that's just my considered opinion, but if you're a Beatles fan, this is a must see flick. The film combines archival footage and interviews that take you inside the Beatles' world during their early years on the road, which only lasted from 1963-66. But during that time they performed 250 concerts and went from obscurity to legend!
I remember really liking Harry Nilsson back in the day and even buying a couple of his albums, including the wonderful Nilsson Schmilsson. But I didn't really grasp his mark on the music world until I saw the documentary Who Is Harry Nilsson (And Why Is Everybody Talkin' About Him?) I was unaware that the Beatles were his biggest fans and very close friends with him, or that those "lost months" John Lennon spent in LA were in part a long crazy bender with his BFF Harry.