I remember really liking Harry Nilsson back in the day and even buying a couple of his albums, including the wonderful Nilsson Schmilsson. But I didn't really grasp his mark on the music world until I saw the documentary Who Is Harry Nilsson (And Why Is Everybody Talkin' About Him?) I was unaware that the Beatles were his biggest fans and very close friends with him, or that those "lost months" John Lennon spent in LA were in part a long crazy bender with his BFF Harry.
Who Is Harry Nilsson (And Why Is Everybody Talkin' About Him?) is a lovingly made documentary about an immensely talented but self-destructive man. Abandoned by his father early on and hitting the road at 15, he impressed the right people and began a songwriting and singing career pretty young, but his volatile temper combined with a strong taste for alcohol and the drugs of the day kept him from ever reaching the heights that his talents could have afforded him. As the documentary makes clear, he was loved and respected by a vast swath of the music world for his amazing voice and unique musical talents. In the film Robin Williams, Yoko Ono, Van Dyke Parks, Randy Newman, Ray Cooper, the Smothers Brothers, Micky Dolenz and many others share their experiences with him and all describe a difficult but lovable guy. He died at the age of 52 no doubt from a fast life of heavy drink and drugs.
This in not one of those lavish digitally enhanced homages to a hero. The footage is grainy, the sound not always so great, but ultimately this sort of filming makes you feel closer to Nilsson's real life than if the talking heads were modern day rock history experts. And fortunately, Harry allowed cameras into the studio when he was working and ranting and boozing and he liked to talk to the camera.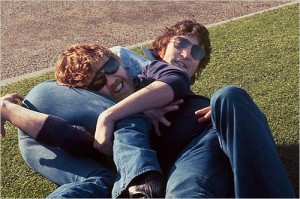 There are lots of funny anecdotes along the way. The guy liked to live out loud. His hijinks with John Lennon is worth the price of admission alone. There is also the sad reality of his personal life which is one of the most disturbing things. His father abandoned him and then went off and had another family. Nilsson only had one visit with his dad before he died. And as if he was intentionally repeating his father's mistakes, he does the exact same thing. Seeing his grown son talk about their one visit is heartbreaking.
If there is a negative to this film, it is that there is not enough of the Nilsson music in it. But it will make you want to go out and buy (download) some of your faves or discover some others that you now know about from the movie. I'd recommend it to anyone who remembers Nilsson's music (Think Lime in the Coconut or Everybody's Talking.) I also plan to rent his wonderful film The Point again.
No Comments Yet
You can be the first to comment!
Leave a comment