Currently browsing the "
John Michael Higgins

" tag.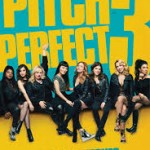 Awards season is filled with a lot of complex, thought-provoking stuff that represents your cinematic meat and potatoes, with a side of veggies. Pitch Perfect 3 is your fluffy dessert. A simple treat that goes down easy but should be consumed in moderation. It's not nearly as good as the refreshingly original Pitch Perfect (2012) or its entertaining sequel, Pitch Perfect 2 (2015). But it is good enough to satisfy the fan base (you know who you are, pitches). At this point, the law of diminishing returns has definitely nibbled away at the comedy/music franchise. But there's room for replenishment and redemption because the main characters are still fun to watch, and the music is still fun to hear. In other words, despite PP3 being marketed as the Bellas' "Farewell Tour," there will surely be a PP4 'Comeback Tour'.
Pitch Perfect 2 is a perfectly entertaining movie. From a plot perspective, it doesn't measure up to its 2012 surprise-hit predecessor Pitch Perfect, but what it lacks in story, it makes up for in gleeful fun. Here's the gist: the Bellas of Barden University are riding high as three-time national a capella champions. But an embarrassing faux pas and wardrobe malfunction during a performance at the Kennedy Center (for the POTUS no less) results in the school suspending the all-girl singing group, now comprised mostly of seniors who really need to be thinking about life after college anyway. The gals strike a deal with the school – and the a capella governing body – that if they can pull off an upset victory at an International competition that no American group has ever won, then the Bellas will be reinstated, and all will be forgiven. Ready, set, cue the music! What follows is pure fun, with informal sing-offs, bonding exercises, surprise cameos, and the return of Elizabeth Banks and John Michael Higgins in all their satirical glory as professional commentators for the singing competitions. They are hysterically inappropriate.