Currently browsing the "
Sofia Vergara

" tag.
Hot Pursuit is a lukewarm comedy that tries to be funny – but isn't – despite the star power of Academy Award winner Reese Witherspoon and Modern Family sexpot, Sofia Vergara. The acting isn't nearly as bad as the script, but it's a moot point. The movie is simply lame – and couldn't come at a worse time for the nation's men and women in blue.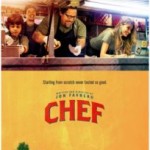 Written, directed and starring Jon Favreau, Chef is the feel good foodie flick du jour. Favreau stars as Carl Casper, a formerly hot young chef who's lost his mojo, but finds his way back by starting from scratch. It's a fun movie with a lot of heart and a fabulous cast. Besides Favreau, it boasts Robert Downey Jr., Scarlett Johansson, Dustin Hoffman, John Leguizamo, Sofia Vergara, and a host of other top shelf talent. For audiences hungering for a change of pace from the special effects driven films out there, this is the ticket!