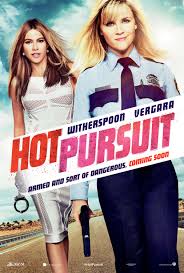 Hot Pursuit is a lukewarm comedy that tries to be funny – but isn't – despite the star power of Academy Award winner Reese Witherspoon and Modern Family sexpot, Sofia Vergara. The acting isn't nearly as bad as the script, but it's a moot point. The movie is simply lame – and couldn't come at a worse time for the nation's men and women in blue.

The premise is this: An uptight, by-the-book cop (Witherspoon) is charged with protecting the loud and flashy widow of a drug boss (Vergara) and getting her to court in Dallas to testify against a bigger crime lord. They are pursued by a slew of bad guys, including dirty cops.
I expected more – and better – from director Anne Fletcher, whose credits include the perfectly pleasant romcoms 27 Dresses and The Proposal. Sadly, the most entertaining moments of the 87-minute-long Hot Pursuit can be seen in the trailer, and in the outtakes at the end of the movie.
Don't waste your time, or money on this pathetic Pursuit.
That is all.