Full disclosure. I didn't see the original Fast and Furious movie- or the three sequels that followed. So I watched Fast Five without any frame of reference. But that's okay – I'm pretty sure I got the drift…. at least, enough to know that fans of the franchise will flock to this movie – and like it – despite an absurd plot, implausible stunts, and more than a little really bad acting.  'Cause it's also kinda fun.
Fast Five is a testosterone-fueled heist movie starring Paul Walker as former cop Brian O'Conner, Vin Diesel as ex-con Dom Toretto, and Dwayne (formerly "The Rock") Johnson as Luke Hobbs, a hard-ass federal agent hot on their trail.
If you're already a fan of the genre, put the pedal to the metal and go – and accept the movie for what it is: a (relatively) harmless guilty pleasure that doesn't make much sense – but doesn't really have to. It goes by fast. It's like a dizzying Oceans 11 – on wheels- without George Clooney. (Chickflix was way overdue for a G. Clooney reference).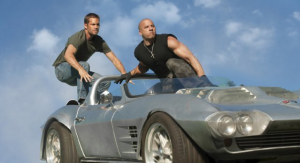 Here's a synopsis: Daring jail break using fast cars. Vroom vroom. Welcome to Rio de Janeiro. Vroom vroom. Steal cars off a moving train. Vroom vroom. Bring together a cast of characters from earlier Fast and Furious flicks to pull off a major heist against evil crime lord. Vroom vroom. Inside jokes. Audience roars. Things blow up. Girls in thongs. Comically bad acting. Ludicrous stunts. Mostly bloodless (PG-13) violence. Pulsating music. Giant vault gets dragged through streets of Rio. Cars crash. Bad guys get what's coming to 'em. Good guys speed off in their cars. Vroom vroom…
Fast and Furious 6 can't be far behind.