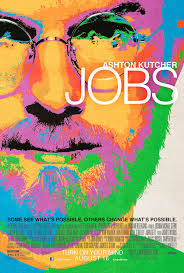 First, the good news. The movie isn't nearly as bad as its title. In fact, I wouldn't be surprised if a lot of people skip this flick simply because they figure it has something to do with the economy. Zzzzzzzz. The movie should have been called Apple, because it's not so much about Steve Jobs the man (as the title might suggest) as it is about the founding of the revolutionary company that Jobs started in his parents' garage. A company that he was eventually fired from and ultimately got back.

Tech-savvy actor Ashton Kutcher does an admirable job portraying Jobs – nailing the icon's quirks and mannerisms without reducing them to parody. But the movie falls short of its promise. There are some gaping holes in the narrative, particularly as it relates to Jobs' personal life. One minute he's refusing to acknowledge paternity to a baby girl that is obviously his. The next minute, she's a teenager crashed out on his couch. What?
Anyway, Jobs is an okay flick if you're looking for a bit of entrepreneurial inspiration, validation, or motivation. There's no question that Jobs blazed a trail that changed technology – and our relationship with it. My first computer was a Macintosh SE (remember those square disks!?). I'm typing this on my MacBook Pro laptop. And my iPhone 4S and iPhone 5 are charging nearby, next to my iPad. Thanks, Steve.
The highlight of the movie for me was Josh Gad's portrayal of Steve Wozniak as Apple's co-founder and the real brains behind the development of the technology itself. Apparently, the real Steve Wozniak isn't too happy with the movie. But then again, he's an advisor on another movie about Steve Jobs being written by the king of snappy dialogue, Aaron Sorkin. I suspect that one will strive to go deeper into Jobs' persona. Too bad Ashton can't play him in both movies. Now that would be cool.