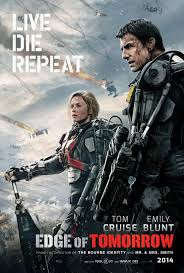 Edge of Tomorrow takes bits and pieces from a bunch of sci-fi fantasy, superhero, apocalyptic war movies and mashes them up into one solidly entertaining flick. In a nutshell, it's Groundhog Day meets Independence Day. The plot is somewhat straightforward: An Army officer named Cage (Tom Cruise) who's made a career as a PR flak (to avoid combat) gets thrown into battle. A close encounter with some alien thing results in Cage having to relive the same day over and over again until he can gather all the mental and physical ammunition he needs to save the world from an alien invasion. He enlists the help of a super soldier named Rita (Emily Blunt) who is the only other person who can sort of understand what he's going through.

Those who still like watching Tom Cruise despite his off-screen craziness will be more than satisfied with his performance. And those who declare themselves Tom Cruise 'haters' can take pleasure in his character dying over and over again. It's a win-win!
The movie is not the 'instant classic' that some claim, mostly because it is chock-full of familiar elements. But it is good, doesn't take itself too seriously, and is probably best seen in the pricier, but immersive, 3-D IMAX experience.
Edge of Tomorrow is PG-13 and well-paced, clocking in under two hours, so it's a good option for teens and adults who like the sci-fi genre, including those with short-attention spans. The trailer doesn't do a very good job of selling the movie, but here it is anyway….