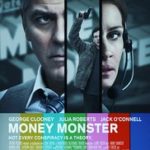 Money Monster is a satisfying crowd-pleaser that definitely benefits from the established rapport between lead actors George Clooney and Julia Roberts and the solid direction of Jodie Foster. Clooney plays an outlandish, self-centered, Jim-Cramer-Mad-Money-type financial TV host named Lee Gates who shares stock tips with what he thinks is an adoring public. Roberts plays his producer/director Patty. She's the one who keeps Gates and the show on track from her seat in the Control Room. Their usual routine is disrupted on live television when a disgruntled investor named Kyle (British actor Jack O'Connell looking and sounding as American as apple pie) gets into the studio, straps an explosive vest on Lee, and demands to know the source of a so-called 'glitch' that caused a particular stock – and his investment- to implode. The result is a tense conspiracy thriller with enough light moments peppered throughout (including some funky dance moves from Clooney) to boost the overall entertainment factor. Money Monster doesn't really need to be seen on the big screen, but it's the best of the week's new offerings for anyone just looking for a solid, well-paced drama with star power.

A Bigger Splash is an indie described as a "sensuous portrait of desire, jealousy and rock and roll, under the Mediterranean sun." I didn't particularly like it, but it's not really my cup of tea. The film stars Tilda Swinton (channeling David Bowie) as a rock legend named Marianne Lane who is vacationing on an Italian island with her boyfriend Paul (Matthias Schoenaerts) while resting her voice after some sort of surgery on her vocal cords. Their seemingly blissful getaway is disrupted by the unexpected arrival of an "old friend" – an obnoxious and eccentric (and often naked) record producer named Harry (Ralph Fiennes) who shows up with a young woman named Penelope (50 Shades' Dakota Johnson, no stranger to baring all on film). What transpires is a bizarre love quadrangle, quirky antics, and crime drama. It has a few charming scenes and some beautiful scenery, but overall, it was too slow for my taste, running just over the two-hour mark. By the end, I was wishing it had been a sequel to the 1984 comedy classic, Splash, with Tom Hanks and Darryl Hannah. Oh well.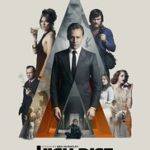 High-Rise is another indie that didn't float my boat this week. In fact, I liked it substantially less than A Bigger Splash, which means I really didn't like it at all, despite the appeal of its lead actor Tom Hiddleston. He plays Dr. Robert Laing, the newest resident of a luxurious apartment in a high-tech concrete skyscraper. The poorest residents live on the bottom floors, and the wealthiest are at the top. Dr. Laing resides somewhere in the middle and navigates between the two worlds, encountering an array of eccentric tenants, as the regimented social strata begin to crumble and the building becomes a battleground for class warfare. There's a lot of graphic sex and violence, drug use, drinking, and abstract weirdness throughout the movie, and truth bet told, I bailed out after an hour because I just didn't care for the characters or the story and couldn't believe there was still a full hour left in the running time. This movie is strictly for the art-house movie buff who may be interested in an odd, futuristic sci-fi/fantasy film set in the 1970s.
For more discussion and debate on the movies listed above, and other stuff too, tune in to The Cinema Clash with Charlie and Hannah. New episodes of the podcast air weekly on radiostpete.com, about 5:10 p.m. on Saturday and 9:10 a.m. on Sunday.
No Comments Yet
You can be the first to comment!
Leave a comment