The Angry Birds Movie – As one adult commented after watching this flick, "It was lamer than I expected. Awful. Though my 6-year-old daughter thought it was great." There you have it in a nutshell. The Angry Birds Movie is the "origin story" of the birds that are propelled into all sorts of stuff in the once-popular Angry Birds mobile app, including the pigs, bombs, TNT, slingshots, etc. that appear in the addictive game that became a mindless timesuck for millions of smartphone users. The animated 'action' takes place on an island populated almost entirely by happy, flightless birds. One exception is the angry outcast Red (voiced by Jason Sudeikis) who becomes sort of an accidental hero when he uncovers a nefarious plot by visiting green pigs who aim to steal all the birds' eggs. The movie has some clever lines and puns and plenty of decent vocal talent. But the story doesn't add up to much and is likely to bore most anyone over the age of eight. Regardless, the 90-minute, 3D, PG-rated Birds far out-flew the competition at the box office in its opening weekend. So if the kids rule the roost where movies are concerned, don't be angry if they demand (or ask nicely) to see it.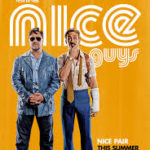 The Nice Guys – Adults looking for an entertaining private-eye crime drama buddy movie with a 1970s 'Starsky and Hutch meets Rockford Files' vibe, then The Nice Guys shouldn't finish last. It's about a down-on-his-luck private detective named Holland March (Ryan Gosling) who joins forces with an enforcer-for-hire, Jackson Healy (Russell Crowe) to find a missing girl embroiled in some conspiracy involving murder, pornography, and the auto industry. It's a rather convoluted plot but Gosling and Crowe play well off each other. The heart of the movie comes from the relationship each has with March's smart and sassy 13-year-old daughter Holly (Angourie Rice), a Nancy Drew in the making. The Nice Guys is rated R for violence, sexuality, nudity, language and drugs. It also has plenty of shocking, wince-inducing, laugh-out-loud moments, and is a fun trip for anyone who lived through the 1970s.
Neighbors 2: Sorority Rising – As sequels to seemingly stupid comedies go, this one's actually pretty good. It's a follow-up to the 2014 surprise hit about a young married couple's battles with the partying frat boys next door, led by the very hot Teddy (Zac Efron). Fast-forward two years and Mac and Kelly Radner (Seth Rogen and Rose Byrne) are expecting their second child and planning a move to a new house further out in the 'burbs. But just as they thought they'd reclaimed the neighborhood and were safe to sell, a makeshift sorority led by crusading college freshman Shelby (Chloë Grace Moretz) rents the house next door, jeopardizing the transaction. Teddy moves into the house to mentor the girls in the fine art of partying and antagonizing their neighbors. But when they give him the boot, he joins forces with his "old" neighbors to sabotage the sorority. The premise is silly, but there are some surprisingly sincere and relatable messages about parenthood, friendship, sexism, feminism, and girl power. If you saw and enjoyed Neighbors, then chances are you'll like Neighbors 2 as well. It's a satisfying sequel. R-rated for relatively mild scenes involving sex, drugs, drinking and vomit. Enjoy!
Love & Friendship – I'm not a huge fan of Jane Austen or slow British period pieces, but I liked this chaste little indie more than I expected to, largely due to the excellent performance of Kate Beckinsale as the beautiful, manipulative and witty widow, Lady Susan Vernon who seems to thrive on challenging the conventions of polite society. She is self-aware, self-centered, and exceptionally skilled at preying on men's vulnerabilities. In Love & Friendship, she's got three suitors in play, including the young and handsome Reginald DeCourcy who would be more age-appropriate for her daughter Frederica, the well-intentioned but silly dimwit Sir James Martin, and the divinely handsome but married Lord Manwaring. Austen purists, or those who prefer a deeper, drier, more complicated drama may be disappointed in Love & Friendship. But it's got a sharp and witty edge that makes it more accessible for those (like me) who might otherwise shun an indie based on a Jane Austen novel, or in this case, novella.
Sunset Song – Full disclosure. I only made it through the first 12 minutes of this long, R-rated epic drama before skimming through to the end. It's strictly for the arty crowd. It's like a slow and depressing Little House on the Prairie gone awry in Scotland. In other words, it's not my cup of tea. The film is based on a classic Scottish novel about a young woman's endurance against the hardships of rural life at the dawning of World War One. British model/actress Agyness Deyn plays the strong and resilient heroine Chris. From what I saw, she was very good. But I simply wasn't in the mood for a long, depressing tale of woe that required English subtitles for anyone not well-versed in Scottish brogue.
For more discussion and debate on the movies listed above, and other stuff too, tune in to Cinema Clash with Charlie and Hannah.