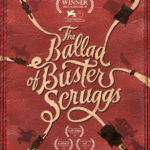 This anthology film from the Coen Brothers will only be in a few big city theaters for a week before it begins streaming on Netflix. It's made up of six separate stories all set in the Wild West held together by beautiful cinematography and a great cast. A couple of the stories are a lot of fun. A few, meh! All together it clocks in at 132 minutes, and there were certainly places where a little snip or two would have made it better. But if you're a fan of the Coens, you'll probably overlook the length and have a fine time.
The first story is pretty fun and whimsical, starring Tim Blake Nelson (O Brother, Where Art Thou?) as a happy-go-lucky singing gun slinger. The next stars James Franco as an unlucky bank robber. Then you get Tom Waits as a gold prospector. Then Liam Neeson and Harry Melling as a traveling side show manager and his quadriplegic act. Then the saga of a woman on a wagon train starring Zoe Kazan (The Big Sick). Then the finale is a macabre stagecoach ride with some bounty hunters starring Tyne Daly (Cagney & Lacey), Brendan Gleeson (Calvary), and Saul Rubinek.
What these stories have in common is death and the violent loneliness of the wide open West. While they have the usual Coen Bros. sly winks and twists, they're not happy stories. The characters don't cross each others' paths or matter to each others' lives. Their only link is geography. If I were judging a shorts festival and these were the entrants, I'd probably leave half of them off the program, as they'd be trifles without their star power.
I was not a fan of the whole "movie" if it can be called that. It was very uneven and mostly forgettable. So I don't think you need to run out to a theater to catch it on a big screen. But watching it on Netflix, your expectations will be lower, and you can zone out during a couple and still enjoy the ones that deserve your attention. Coen Brothers diehard fans will probably be kinder than I. Put it in your queue and give it a go.
[Mainstream Chick's Take: It took me a while to get around to seeing this one, mostly because I'm not a diehard Coen Brothers fan. I totally get that they have a devoted following, many of whom I count among my friends. I'm just not into their brand of quirk, though I do appreciate certain elements of their films. The Ballad of Buster Scruggs both satirizes and worships the singing cowboy/western genre, resulting in a cinematic smorgasbord of oddball stuff that features some exceptional, high-falutin' acting and beautiful cinematography and the twangy-rich Oscar-nominated cowboy diddy, "When a Cowboy Trades His Spurs for Wings." The song rather brilliantly sets the tone for the anthology, which includes a lot of death. Quirky death. So yes, if you are a Coen Brothers fan, you absolutely should tune in to The Ballad of Buster Scruggs, at your leisure. -hb]