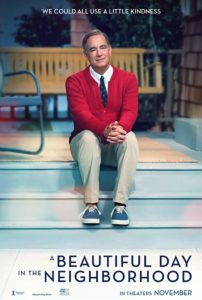 A Beautiful Day in the Neighborhood sticks with me today as much as it did a month ago when I pegged it as one of my favorites at the Middleburg Film Festival. Cheesy and sentimental as it may sound, there's no denying the power of – and need for – the film's inspirational and aspirational message that it only takes one person to inspire a world of kindness. It doesn't hurt to have that message conveyed by Hollywood's Mr. Nice Guy, Tom Hanks, channeling children's television icon Mr. Fred Rogers.
The film is not a conventional biopic. It's not a dramatized version of last year's stellar documentary Won't You Be My Neighbor. It's a complement to that documentary, a reinforcement of the notion that Mr. Rogers was the real deal. It tells the story (inspired by true events, with some dramatic license) about the impact Mr. Rogers had on a cynical journalist assigned to profile him, and the friendship they developed.
Matthew Rhys (The Report, The Americans) plays Lloyd Vogel, a partially-fictionalized version of investigative reporter Tom Junod, who turned what could easily have been a puff piece or eye-rolling satire into a thoughtful 'expose' on Mr. Rogers as a true hero in this 1998 Esquire article, the inspiration for A Beautiful Day in the Neighborhood.
In the film, Vogel is dealing with a lot of personal stuff (coming to terms with an absentee dad while becoming a new father himself) when his editor assigns him the Rogers story. Vogel is skeptical, but Rogers chips away at Vogel's defenses and exposes the reporter to what's really most important in life. Being good, doing good, taking time to listen rather than talk.
Director Marielle Heller (Can You Ever Forgive Me) lets the film breathe when it needs to – including a full minute of glorious silence where you could hear a pin drop in the theater – and 'sing' when it can, as when a group of schoolkids recognize Mr. Rogers on the subway and break into an impromptu chorus of "Won't You Be My Neighbor." Somebody hand me a kleenex, please.
Hanks's accent comes off a bit Forrest Gumpish at the start, but if you embrace it for the cadence and compassion it's meant to invoke, you quickly get past it.
Rogers' widow Joanne presented an on-screen introduction to the film, endorsing it as both a fitting tribute to Fred who died in 2003, and a call to action, to simply be more kind in these divisive times. For that alone, it's worth slipping on the sneakers, zipping up the cardigan, and watching A Beautiful Day in the Neighborhood. It's the feel-good movie of the season for all, regardless of gender, race or age.