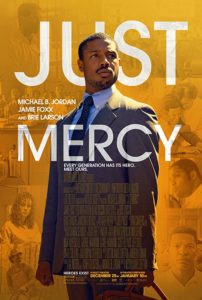 Just Mercy is an infuriating and inspiring legal drama based on the true story of a man who spent six years on death row for a crime he didn't commit, and the young, Harvard-educated lawyer who worked feverishly to get him sprung. That lawyer – Bryan Stevenson (Michael B. Jordan) – is not some long-dead legal eagle who won his case and faded into the sunset. He's a champion of social justice who created the nonprofit Equal Justice Initiative in Alabama, and continues his crusade to this day to help the disenfranchised.
The film, directed by Destin Daniel Cretton (The Glass Castle, Short Term 12), is adapted from Stevenson's 2014 memoir about the exoneration of Walter "Johnny D" McMillian (Jamie Foxx), a black man wrongly convicted in the 1986 murder of a white, 18-year-old store clerk in Monroeville, Alabama (best known as the home to Harper Lee, author of "To Kill a Mockingbird"). McMillian had a solid alibi; there was no physical evidence against him; his conviction was based on coerced, false testimony; crucial evidence was withheld from his lawyers. Yet McMillian lost appeal after appeal. Eventually, public pressure – fueled by this "60 Minutes" segment that brought the case into the national spotlight – forced prosecutors to re-examine the case.
McMillian wasn't a saint, and Just Mercy glosses over some details of his personal life. But he wasn't a killer, and that's what the movie – dramatic license aside – aims to focus on… the idea that someone can be convicted of murder, and sentenced to death, and possibly even executed based on serious flaws in the justice system. The accused aren't always innocent in Stevenson's world; but his mission is to provide fair representation, and to motivate outrage over a system stacked against people of color.
Just Mercy leans on a stellar cast to elevate what is, for the most part, a conventional legal drama in the spirit of A Few Good Men. Jordan (Black Panther, Creed, Fruitvale Station) and Foxx (Baby Driver, Django Unchained) deliver compelling performances, as do supporting players including: Oscar-winner Brie Larson (Room, Captain Marvel) as Eva Ansley, co-founder of the Equal Justice Initiative; Tim Blake Nelson as Ralph Myers, the career criminal who provided some absurd false testimony against McMillian; and Rafe Spall as a prosecutor reluctant to face the truth.
The film concludes with a powerful stat: "For every 9 people who have been executed in the U.S., one person on death row has been proven innocent and released, a shocking rate of error." That's not meant as a spoiler. It's meant as incentive to see the film and contemplate its message and call to action.