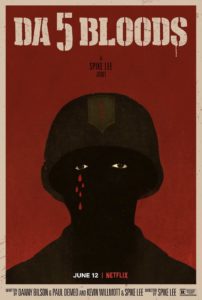 I can't believe it's taken me so long to watch this one, but since awards season is sneaking up and screeners are flying into my mailbox, I finally bit the bullet. And I am glad I did. Spike Lee has created another powerful film with a foreground story about four Vietnam vet buddies returning to Nam to retrieve some gold they left behind and also to repatriate the remains of the fifth Blood buried in a remote jungle. The film is underpinned with a history of the US government's racist treatment of Black soldiers and it's not a stretch to see how much of that has not changed. Lee has never been one to sugar coat anything. It's an entertaining movie with some great performances, though it could have been cut down a bit without losing its way.
We meet four of the Bloods as they check into a fancy hotel in Saigon. Otis (Clarke Peters, Three Billboards Outside Ebbing, Missouri ) is the heart of the group and has a sweet and surprising reunion with a women he loved during the war. Melvin (Isiah Whitlock Jr., "Scandal") is the happy-go-lucky member of the tribe.  Eddie (Norm Lewis, BlacKkKlansman) is the one who made good and probably doesn't need the gold, but misses the camaraderie. And then there's Paul (Delroy Lindo, Get Shorty, Malcolm X). He's got some serious demons haunting him, and it's not surprising that he's sporting a MAGA hat. His son David (Jonathan Majors, The Last Black Man in San Francisco, "Lovecraft Country") arrives unannounced because he's worried about his Dad, but the two of them have a less than warm relationship.
Before they head out on their mission they agree to an arrangement with a shady exporter (Jean Reno, Leon:The Professional) to get the gold money out of the country, for a cut of the haul of course.  Then it's off to the jungle and the fun begins. Their Vietnamese guide doesn't think it's a great idea but he agrees to meet them after some time, and to call the authorities if they don't show. The closer to the gold they get, the crazier Paul becomes, and we see in flashback what's eating him up inside. The fifth Blood, Stormin' Norman (Chadwick Boseman) the one they left behind, was his hero and he let him down in the worst way possible. Norman schooled them all on Black history and activism while being the perfect soldier. [I cried when Boseman came on camera. Such a loss.]
The story of the gold becomes complicated when they meet some people in the jungle they'd met previously in a bar in Saigon. They're with an NGO finding and dismantling mines left behind by the war. But the men don't trust them. And then there are others coming for the gold and there's a lot of gun-play and death.
Delroy Lindo is getting a lot of buzz for his performance and deservedly so. He's the best thing in the film. All the Bloods are at the top of their game, and fortunately they also have great chemistry. Lee's structuring of the film is also its strength, with historical references both past and present interposing with the main story line. The film is too long though at 154 minutes. I think it could have been a stronger film with some judicious cutting. Nevertheless, it's a film worth seeing for a lot of reasons and will no doubt get a lot of awards season love.
[Mainstream Chick's take: I, too, just finally got around to watching this one, primarily because it was popping up on a bunch of year-end 'best of' lists. It is quite good = a new twist on the war/crime caper/band of brothers type of film. Chadwick Boseman's role is smaller than I expected but he of course makes the most of it. The guy had such tremendous talent and it's hard to watch him without feeling that extra pang of sadness (he shines in the recently-released Ma Rainey's Black Bottom as well.) Lindo's character is the most compelling of Da Five Bloods and I would not be surprised to see him get a best actor nom. I didn't love the movie, mostly because it's not the type of escapism I would choose to seek out in a pandemic. But I'm glad I watched. -hb]
Da 5 Bloods is streaming on Netflix. It's rated R "for strong violence, grisly images and pervasive language."