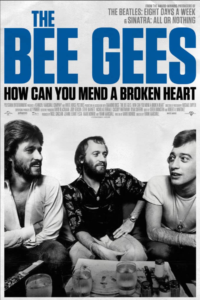 This HBO documentary wasn't even on my radar until friends of my particular generation started raving about it on Facebook. So I felt inclined to check it out. And I'm glad I did. The Bee Gees: How Can You Mend a Broken Heart explores the surprisingly interesting history of the group that basically invented a new form of Disco with their hit soundtrack for Saturday Night Fever – before the genre nearly killed them. Remember Disco Duck? Not their fault.
The documentary features interviews with oldest brother Barry Gibb, and archival interviews with the late twin brothers Robin and Maurice. Towards the end, we also get some added insight into the tragic addiction-fueled demise of youngest brother Andy, who died at the age of 30 in 1988, the same year he was to officially join his brothers' group.
I learned quite a bit about the Bee Gees – their rise to fame, the bumps in the road, and their ability to change with the times. And I either forgot or didn't realize the extent of their songwriting prowess, penning hits including "Islands in the Stream" (Kenny Rogers and Dolly Parton), "Chain Reaction" (Diana Ross), "Woman in Love" (Barbra Streisand), "Heartbreaker" (Dionne Warwick) and "Grease" (Frankie Valli). Ah, the soundtrack of my youth!
The documentary was directed by Frank Marshall (Eight Below, Congo) and written by my old Headline News coworker Mark Monroe, who is on quite the roll (The Dissident, The Cove, Iccarus, Pavarotti, The Biggest Little Farm, The Beatles: Eight Days a Week).
Bottom line: If you're a child of the 1970s, had the "Saturday Night Fever" album, and/or were an avid reader of "Teen/Tiger Beat" magazine, then you should definitely tune in to The Bee Gees: How Can You Mend a Broken Heart – but don't blame me if several songs get stuck in your head for days on end.
No Comments Yet
You can be the first to comment!
Leave a comment