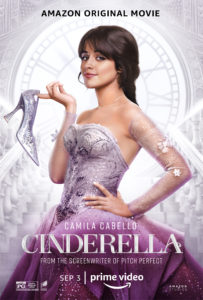 This latest take on the fairytale classic is actually quite entertaining and refreshingly different while still retaining a comfortable air of familiarity. Just don't expect to hear the enduring, trademark songs of Rodgers & Hammerstein. 2021's Cinderella features a modern twist, with modern music that includes some original songs and a bunch of covers, from Madonna to Queen and stuff in-between. The contemporary live-action film opens with a toe-tapping production number showcasing a hip array of subjects in the Kingdom of Rhythm Nation, where Ella (Camila Cabello) resides in the basement of a home with her stepmother (Idina Menzel) and step-sisters (Maddie Baillio, Charlotte Spencer). The 'steps' aren't exactly evil in the tradition of most "Cinderella" tales, but they aren't a loving, supportive bunch either.  Jealous much? 
So what makes this Cinderella different from the rest? Well, for one, she isn't all about meeting and marrying a Prince, though the royal and commoner romance certainly remains a key part of the narrative. This Ella's got big dreams that involve traveling the world as a high-end fashion designer (think "Cruella" without the cruel streak). A doting prince – however cute and woke – may not fit into her gameplan.
The Prince in this particular incarnation is Robert (Nicholas Galitzine), a charming lad who invites Ella to attend the ball that his parents, the King and Queen (Pierce Brosnan, Minnie Driver), are throwing for all the single ladies in town. It's a good opportunity for Ella to do some networking. Stuff happens and Ella gets waylaid. But with the help of a fabulous godparent – the 'Fab G' (Billy Porter) – Ella makes it to the ball, uncomfortable glass slippers and all, with a midnight curfew.
The original idea for this new Cinderella came from actor/comedian/singer James Corden – a producer on the film who also gets to have some fun playing a mouse and Footman. But it's fueled by girl power in front of and behind the camera, with writer/director Kay Cannon (Pitch Perfect, Blockers) calling the shots.
Now I'm not saying that this Cinderella is some sort of instant classic that can compete on the same level as myriad Cinderella predecessors. But it's cute and fun, at least in the moment. And it manages to inject a few twists – including the addition of the Prince's sister Gwen (Tallulah Greive), a social progressive with her own ideas for bringing the kingdom into whatever 'modern times' might look like. Enjoy the film for the light magical, musical ride that it is.
Cinderella will be available simultaneously in theaters and on Amazon Prime Video on September 3.