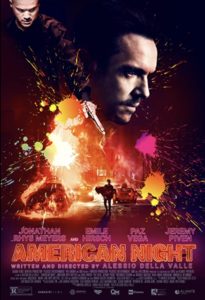 This neo-noir crime flick set in the art world has a good cast, looks fabulous, and even has some decent music. But at just over two hours in length, it never really finds its mojo. The story revolves around a stolen Andy Warhol Marilyn print. Michael, a young mafioso with the soul of an artist (Emile Hirsh) wants it back because his dead father promised it to him, but then sold it. And he'll go to any length to find it. Murder, torture, whatever. 
As the film begins a narcoleptic courier gets caught in a gun fight in a diner and loses the Marilyn on the way to the buyer. Art forger turned gallery owner John (Jonathan Rhys-Meyers, "The Tudors", Match Point) is in the diner with his sad sack half-brother (Jeremy Piven) who emulates Bruce Lee. He's is trying to go straight for his art conservator girlfriend (Paz Vega), but he keeps getting pulled back into the crime world, including the hunt for that purloined Marilyn.  And he has another mafioso (Michael Madsen) breathing down his neck.
Director Alessio Della Valle definitely has Quentin Tarantino/Guy Ritchie pretensions, as in uber-stylized flashy violence. But the bigger problem with the film is the way it's divided into three parts, each of them going over the same story with only slight variations. It's one of those film where a bunch of strands eventually come together, but it's tedious at times and did I mention it's over two hours long? Somewhere in there was probably a good story, but it's obscured by a confused and not terribly intelligent script. Give this one a pass and watch an old Richie flick if your hungering for that sort of thing.