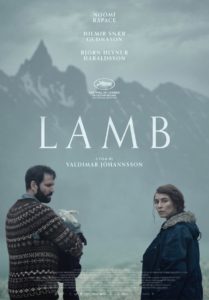 Strange doesn't even come close to describing this folk horror flick.  Set in a remote valley somewhere in Iceland, Maria (Noomi Rapace, The Girl with the Dragon Tattoo, Prometheus) and Ingvar (Hilmir Snær Guðnason) go about their lives in relative silence running their sheep farm. But one day as the sheep are lambing, it all changes. Maria brings one super adorable lamb into their house and treats it as you would an infant. Soon Ingvar is moving a crib into their room and they're both parenting the little one. And lest you think they're total weirdos, it turns out that little Ada is in fact half-human. And suddenly their sad existence turns sunny.
But there are darker forces out there, like the ewe who wants her lamb back and stands bleating under their bedroom window. And when Ingvar's ne'er-do-well brother Pétur (Björn Hlynur Haraldsson) shows up unexpectedly about halfway into the film and asks, "What the f**k is this?" (I burst out laughing), Ingvar tells him, "Happiness." And though Pétur initially finds it all too much to take in, he too gradually bonds with cute little Ada.
But while the humans are all having a great time, all is not warm and fuzzy outside. Cinematographer Eli Arenson creates a totally creepy atmosphere with an amazing pastel pallet coloring the natural world from the landscapes to the house cat to one particular ram who's got menace in his heart. And the CGI that lets you believe in the human/lamb hybrid is seamless. The film, despite its outlandish premise, is an oddly engaging and eerie tale about the power of delusion and love to heal, though with some serious consequences. I kept thinking of that margarine commercial from back in the 70s with the line, "It's not nice to fool Mother Nature." This probably isn't a film for everyone, but if you're a fan of off-kilter flicks like those of Yorgos Lanthimos (The Killing of a Sacred Deer, The Lobster) or Charlie Kaufman's Eternal Sunshine of the Spotless Mind, I think you'll appreciate it. 
[Mainstream Chick's take: I was not a fan of The Killing of a Sacred Deer or The Lobster, though I know plenty of arty-leaning folks who were! So those films do serve as a good barometer for gauging whether you'd take to Lamb. For those on the fence, I will say it's hard not to get the feels for Ada and her welfare, the Icelandic scenery is cool, and the guy who plays Pétur is an Icelandic dead ringer for Parks and Rec's Nick Offerman. -hb]