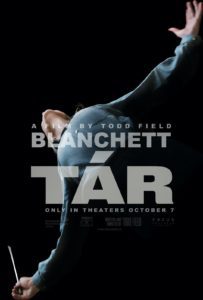 I am quite late with this review (the film is out in theaters) because I'm still trying to figure out how best to give it a fair shake. I was totally on board for the first half-hour (not counting insanely long opening credits that are usually reserved for closing credits). But somewhere over the next two-plus hours, I lost interest in all but Blanchett's general command of the screen, and the music. TÁR kicked off like a classical-music spin on "Inside the Actor's Studio." We meet Lydia Tár (Cate Blanchett), a brilliant American conductor at the height of her career. She's leading a major German orchestra, preparing for a book launch and a much-anticipated live performance of Mahler's Fifth Symphony (apparently a big deal if you're into that sort of thing), and she's even got an EGOT! That little tidbit was my first clue that Lydia Tár is a fictional character. At first, I wasn't sure.
The story does appear to draw from real-world dilemmas and character flaws around morality, cancel culture, abuse of power, enablement, psychological manipulation and mental illness. Lydia Tár is a talented, powerful woman going off the rails. She refuses to get drawn into any debate about the patriarchy or let gender define her place on the global stage. Is that meant to provide some sort of cover for her behaviors? Perhaps.
Lydia Tár is a force of nature and, as we come to discover, not a nice person. She is the eye of the storm, surrounded by a flurry of characters who exist to expose the loose threads hidden beneath her custom-tailored attire. They include Lydia's wife Sharon (played with subtle fortitude by German actress Nina Hoss); her quietly-intense personal assistant who knows all, Francesca (French actress Noémie Merlant); and a masterful young cellist named Olga (real-life cellist Sophie Kauer making her acting debut) in whom Lydia takes a rather unsettling interest, personally and professionally.
My quibbles with the film are personal: the running time exceeds my tolerance for anything outside the Marvel universe; and I'm just not a fan of disturbing. I tolerate both during awards season because… well… I have to.
Bottom line: I can appreciate what others appreciate in the film, even if not my cup of tea. I think it helps to have some understanding of the classical music landscape (and at 153 minutes long, an empty bladder), but it's not a necessity. A colleague enjoyed it for the intriguing character study that it is. My seatmate fell asleep. My mom really liked it. My dad did not. I fall somewhere in between. Intermezzo! Thus my reluctance to sway potential viewers one way or another. Everyone has their own taste in movies, and music. One thing is for sure, however. Cate Blanchett is a shoe-in for an Oscar nom for Best Actress. The Academy loves rewarding actors who learn stuff for their films and are fully immersed in a complex character. Blanchett learned German for the role. She re-learned piano. She learned how to conduct an orchestra! Writer/director Todd Field (2006's Little Children) has even gone so far as to say the script was written for one artist and one artist only– Cate Blanchett. "Had she said no, the film would never have seen the light of day… she is a master supreme." 
So there you have it.
Arty Chick weighs in: 
I agree with Mainstream Chick's assessment of Tár. Cate Blanchett will no doubt get another Oscar nod, and deservedly so. The story of a powerful woman brought down by her own doing is a compelling narrative. Unfortunately, the details of what exactly happened and how she is brought low were not top of mind for the writer/director. The examination of Lydia Tár and her out of control ego are given more time that her actual actions away from the limelight and I think that is what keeps it from being a great film. And could it have been shorter? Probably. But would I still recommend seeing it. Yes, I would for Blanchett's performance.
TÁR is in theaters now.