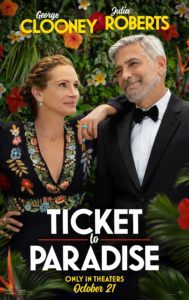 Ticket to Paradise is the cinematic equivalent of a mindlessly entertaining 'beach read'; a PG-13-friendly big screen adaptation of almost any 'second chance at love' romance novel; a Netflix or Hallmark romcom pleasantly suitable for on demand viewing or streaming… except…
It has Julia Roberts and George Clooney. George Clooney and Julia Roberts. Two Academy Award winners and longtime friends and collaborators (Oceans 11&12, Confessions of a Dangerous Mind) teaming up for their first romantic comedy together. And it's only available in theaters (initially).
The setting is gorgeous (Australian beaches standing in for Bali); Clooney and Roberts have fun trading zingers; and the supporting cast is solid. Too bad the plot is paper thin. Does that really matter? Not necessarily. Ticket to Paradise is all about escape. So don't be shy about grabbing some friends, having a few cocktails, and catching a matinee. No deep thinking required.
As to that paper-thin plot, here's the gist: Clooney and Roberts play David and Georgia, bitter exes who come together on a shared mission to stop their daughter Lily (Kaitlyn Dever, Booksmart) from marrying a guy she just met on a post-graduation trip to Bali. They are convinced she is repeating their mistakes from 25 years prior and rushing into matrimonial disaster. But Lily and her seaweed-farmer fiancé Gede (Maxime Bouttier) are not David and Georgia. They are happy and in love and committed to carving out a future together in their little slice of paradise…if David and Georgia don't ruin it.
Ticket to Paradise hangs its wide-brim hat on the chemistry between Clooney and Roberts as their characters reflect on what drove them apart and who was most at fault. There's drinking, dancing, sabotage, physical comedy, verbal sparring, and sparks– occasionally interrupted by the presence of Georgia's overly-kind, hot,  pilot boyfriend Paul (Lucas Bravo), Lily's precocious best friend Wren (Billie Lourd), and the groom's quirky extended family.
It's fun to watch Clooney and Roberts even as you think to yourself, "I can't believe George Clooney and Julia Roberts are starring in this superficial Netflix-style romcom!" Perhaps, like the rest of us, they just needed an escape.
[note: stick around for the end credits. some of the outtakes are a hoot]
Ticket to Paradise opens exclusively in theaters on October 21.