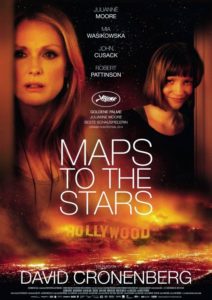 David Cronenberg has always brought us characters and situations that are unsettling. His early films were smart horror flicks like The Fly and Dead Ringers, and I thought he'd moved into his more mature years with serious dramas like A History of Violence and Eastern Promises. But Maps to the Stars feels like a step backwards or perhaps an attempt to blend his earlier and later genres into one. It is a semi-horror satire of the Hollywood film world run amok, complete with ghosts and murder and incest. Every single person in the film is only out for themselves. And if you've never been to LA, Maps to the Stars will make you never want to go near the place.
Julianne Moore won the best actress award at the Cannes Film Festival last year for her turn as the egomaniacal actress Havana Segrand who is obsessed with landing the lead in a remake of the film her abusive mother won the Academy Award for. And she is wonderful, as is John Cusack as Dr. Stafford Weiss, famous self-help guru and father of two insane children. One of them is an insufferable child star (Evan Bird) recently back from rehab and ready to make the sequel to his breakout film, and the other is his estranged daughter (Mia Wasikowska) just sprung from the loony bin who just happens to get a job as Havana's personal assistant, unbeknownst to her family.
Maps to the Stars is one of those movies that you leave thinking, it really could have been a great film, but it just lost its way. There are great scenes, though there are also many that seem totally superfluous, only left there to show us how disgusting these people actually are. It's got top notch acting and it is beautifully shot, but the story just doesn't add up to anything. There is nothing fresh in the satire. We've all seen how ego drives Hollywood by now. I'd say skip this one, and hope Cronenberg gets back to those more mature dramas we know he can pull off so well.
No Comments Yet
You can be the first to comment!
Leave a comment