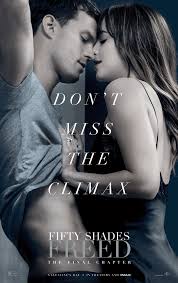 Seven years hence the release of "Fifty Shades of Grey", it's time to close the book on the movie franchise that the popular and controversial novel helped procreate. If you've read the full trilogy – "Fifty Shades of Grey," "Fifty Shades Darker" and "Fifty Shades Freed" – and/or seen the first two installments of the erotic fairy tale – then it's still worth seeing the final chapters unfold on the big screen, even if the 'climax' is a bit of a letdown.

Fifty Shades Freed picks up where Fifty Shades Darker left off one year ago, with billionaire reformed dominant Christian Grey (Jamie Dornan) and submissive-resistant Anastasia Steele (Dakota Johnson) tying the knot, on their way to a very kinky happily ever after. But first they must overcome some personal hurdles as well as the dangerous threat posed by Jack Hyde, Ana's former boss who has some deep-seated hatred toward Christian.
En route, there are sex scenes aplenty – in the car, on a boat, on the kitchen counter, in the spacious walk-in shower, in the well-equipped red room, sometimes even in bed. Passionate sex, anger sex, make-up sex, life-affirming sex… you get the picture. Fifty Shades Freed goes a lot further than its predecessors to earn that 'R' rating. Safeword: Popsicle.
Fifty Shades Freed is basically soft porn wrapped in a flawed romantic drama crippled by a screenplay that makes the final book seem like a literary masterpiece. The written pages contain significantly more plot and character arc resolutions than the final film was able to muster. Marcia Gay Harden as Christian's adoptive mother gets fairly high billing in the credits but only shows up for about a minute in Freed. Kim Basinger, who played Elena, aka "Mrs. Robinson" in Darker doesn't show up at all and her character is mentioned only in passing, and via text message. The entire supporting cast – including the villain Hyde (Eric Johnson) – amount to little more than weak connective tissue between Christian and Ana's romantic interludes.
Darker and Freed were shot in quick succession with the same director at the helm. Yet the acting and the chemistry are inconsistent at best throughout the final film. I wasn't a big fan of the casting choices to begin with, but Johnson and Dornan had started to grow on me over the years. The growth spurt stalled here, as the emotional pull that swept millions into author EL James' unconventional Steele-Grey love nest failed to materialize onscreen. Bottom line: Not sorry I watched it; but I am glad it's over.
For lively dialogue and debate about FIFTY SHADES FREED, PETER RABBIT, A FANTASTIC WOMAN, HAPPY END, BECKS, BASMATI BLUES, and the OSCAR-NOMINATED animated and live-action SHORTS, check out this copious edition of the Cinema Clash podcast: