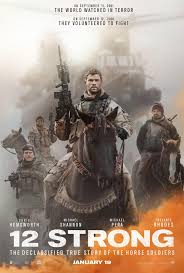 It's Thor! As a soldier! On a horse! That got my attention. And it helped hold my attention while 12 Strong delivered some fairly standard war drama stuff. It's a middle of the road war movie with a western vibe that draws its strength from the fact that it's based on a wild declassified true story revealed in the 2009 book, "Horse Soldiers" by Doug Stanton.

12 Strong tells the story of the first U.S. troops sent into Afghanistan in the immediate aftermath of 9/11 — a single unit of 12 men (dubbed "Task Force Dagger") whose job it was to battle the al-Quaeda-linked Taliban on their mountainous home turf and secure the strategically-important Afghan city of Mazar-i-Sharif. Aussie actor Chris Hemsworth (Thor: Ragnarok) plays Captain Mitch Nelson, the leader of the Special Forces team from Kentucky that defied all odds to win the first major battle in a war that drags on still today. They wouldn't have been able to do it, however, without the guidance and cooperation of Uzbek warlord General Abdul Rashid Dostum (Navid Neghaban). A central theme of the film involves the somewhat begrudging respect the two leaders cultivated in order to bridge cultural divides and unify Northern Alliance leaders in the fight against a common enemy.
12 Strong has a strong supporting cast that is long on talent and short on opportunity for character development. Hemsworth's real-life wife Elsa Pataky plays the on-screen wife who begs him to promise that he won't die in combat; Michael Shannon (The Shape of Water, 99 Homes) plays a Chief Warrant Officer and Nelson's right-hand man; Trevante Rhodes (Moonlight) and Michael Pena (who played a transit cop trapped in the rubble in the 2006 movie, World Trade Center) get minor story beats as members of the elite task force. The rest of the 12 are less discernible amid the intense fighting scenes involving a mix of conventional and unconventional, old-school and modern warfare.
Surely the film took some dramatic license with the narrative and the characters. But it's an interesting true-ish story none-the-less. Is it a must-see? Not really – unless you're a big fan of war movies and westerns. And/or Chris Hemsworth.
For more on 12 STRONG, check out this edition of the Cinema Clash podcast which also features lively discussion and debate about: the sanitized romantic melodrama FILM STARS DON'T DIE IN LIVERPOOL; the dark horror comedy about parents who act on the urge to kill their obnoxious kids in the cult-classic wannabe, MOM AND DAD; and a glimpse into the inner-workings of President Obama's foreign-policy team in the documentary, THE FINAL YEAR.