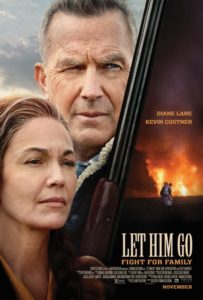 Let Him Go is a slow burn. That takes a turn. That'll make you squirm. Perhaps if you've read the 2013 novel "Let Him Go" by Larry Watson, the shocking moments won't be quite as shocking. But for the rest of us, it's enough to go… YIKES. Forewarned is forearmed, so brace yourself for a rough ride, especially toward the end.
The film's lead actors Kevin Costner and Diane Lane have worked together before – in Man of Steel and Batman v Superman, playing Superman's adoptive parents Jonathan and Martha Kent. In Let Him Go, they are, once again, a loving long-married couple living on a ranch (Montana, not Kansas) with a son who is the apple of their eye. But Let Him Go is no PG-13 superhero flick. It's a character-based adult thriller set in the American West in the early 1960s. The landscape is beautiful and Costner and Lane share an easy on-screen chemistry, which could lull you into a false sense of cinematic security as the story begins to unfold.
Here's the gist: A few short years after the death of their adult son, retired sheriff George Blackledge (Costner) and his horse-whisperer wife Margaret (Lane) pack up the station wagon and leave their Montana ranch to rescue their young grandson Jimmy and former daughter-in-law Lorna (Kayli Carter) from the clutches of her new husband's family, the Weboys. The Weboys are a dangerous clan living off the grid in the Dakotas, led by menacing matriarch Blanche (Lesley Manville, Phantom Thread, Ordinary Love). The Weboys are a controlling and violent bunch, with the local law in their pocket. George and Margaret soon find themselves caught up in a terrifying fight for their own survival, as well as their grandson's.
Let Him Go was written for the screen and directed by Thomas Bezucha (Monte Carlo, Big Eden, The Family Stone) and he infuses the narrative with lots of stillness and silence reflective of big sky country and the Badlands (though Alberta, Canada stands in for Dakotas). The title "Let Him Go" can refer to several characters depending on how you choose to interpret it. And the film draws on several (perhaps too many) genres at once – it's a western, a crime drama, a thriller, a character study in relationships. I was all in for the first half of the film, but struggled a bit as the family face-off came to a head. If only Superman could swoop in to save the day…
No Comments Yet
You can be the first to comment!
Leave a comment