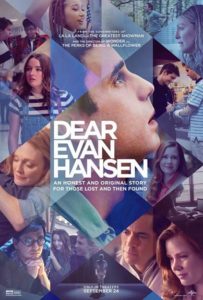 Broadway is back in business, but you don't have to brave a trip to NYC to get your musical fix. Broadway is coming to a movie theater– or streaming service– near you.
Trying to decide what, if anything, to see? Here's a brief roundup, with my two cents on why each of these offerings has merit – the  caveat being that I am a very easy sell when it comes to movie and broadway musicals! First up: the latest Broadway musical adaptation to arrive in theaters — Dear Evan Hansen.
Full disclosure: I haven't seen the stage version, which won six Tony Awards including Best Musical. So I can't speak directly to how the film adaptation compares. All I know is that a lot of the buzz has been brutal about changes to the song list, and the ending, and about selling 27-year-old Ben Platt as a high school teenager with a social anxiety disorder. I get it. But still… Platt originated the role and is too good a singer to dismiss. So deal with it. Also, be aware that Dear Evan Hansen isn't the type of movie musical that will have you dancing in the aisles. Far from it. It's more like a coming-of-age drama infused with ballads about life, death, love, tragedy, self-reflection and acceptance. If that makes you cringe, you'll likely want to skip Evan Hansen. It's a personal choice. Ultimately, I didn't love the film, but I certainly didn't hate it. It satisfied a curiosity I had about the show. So what's it all about? A misunderstanding – and then a lie – that spirals out of control, impacting two families and taking social media by storm. The character of Evan is a socially awkward and isolated high schooler who writes notes to himself as part of a therapy assignment. A not-so-nice classmate with issues of his own swipes one of Evan's notes and has it on his person when he commits suicide. What happens next is… for the viewer to see and process. The film has a solid supporting cast that includes Amy Adams, Julianne Moore and Kaitlyn Dever (Booksmart). I wasn't as emotionally invested as I expected throughout Dear Evan Hansen, though I did tear up near the end, because I'm a sap. Which brings me to another coming-of-age musical drama that provided some misty moments with a lot more lighthearted ones…
Everybody's Talking About Jamie – in some theaters and now streaming on Amazon. It's based on a British musical drama that I did actually see a few years ago on the West End. It was the hottest ticket in town! Everybody really was talking about Jamie. The film adaptation tracks pretty closely to the stage version though I felt more of an emotional pull watching the live show in a small theater. The intimate setting provided an energy that couldn't be captured onscreen. All in all, though, it's a solid film with a Billy Elliott meets Kinky Boots sort of vibe. Everybody's Talking About Jamie is inspired by true events and tells the heartwarming story of a teenager named Jamie New (Max Harwood) who dreams of a life on stage as a drag queen. His mother (Sarah Lancashire) and best friend (Lauren Patel) are quite supportive of his career ambitions, but his absentee father, classmates, and teacher/career counselor (Sharon Horgan) are less enthusiastic and sometimes downright cruel. Jamie is determined to be his best Jamie though, and he finds a mentor in local drag legend Miss Loco Chanelle (Richard E. Grant). The film has some colorful, fun and uplifting music, even if the tunes don't stick with you beyond the closing credits. Ultimately, it's about one kid stepping out of the darkness and into the spotlight, and inspiring a community to overcome prejudices and embrace the importance of being true to one's self.
Another uplifting stage-to-screen offering, also inspired by true events, is Come From Away, featuring the broadway cast. This one is more like Hamilton in that it's literally a filmed version of the live stage show. And I did see the stage version in its pre-Broadway run. I think I actually enjoyed Come From Away more the second time around, on AppleTV+, because I was already familiar with the premise and knew that it involved a very stripped-down set and actors playing multiple roles. Come From Away has broad cross-genre appeal and should sit particularly well with theatergoers who tend to prefer subtle dramas over spectacle/jukebox musicals. Come From Away tells a moving, feel-good story about some of the thousands of "plane people" aka "come from aways" who became stranded in the small town of Gander, Newfoundland when all U.S. planes were grounded amid the terror attacks of September 11, 2001, and the communal bonds that were formed in the midst of tragedy. The live performance of the show was filmed at the Gerald Schoenfeld Theater in New York, for an audience that included 9/11 survivors and front-line workers.
And finally, if you're feeling even more nostalgic than ever for some Broadway history, there's a new documentary called On Broadway. The film's rollout coincides with Broadway reopening after 18 long, dark months. The target audience is most definitely broadway aficionados (like my drama major niece) and theater historians. It has some entertaining and insightful tidbits, and interviews with key players on stage and behind the scenes, including Hugh Jackman, Helen Mirren, Christine Baranski, August Wilson, James Corden, Alec Baldwin, John Lithgow, Viola Davis, and Ian McKellen. The film explores how Broadway has continually reinvented itself to survive and thrive, though not always in a way that purists could embrace.
Still undecided? Here are the trailers for all of the above: