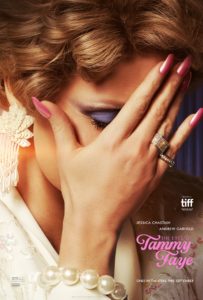 If Oscar History is any judge, it doesn't matter that The Eyes of Tammy Faye is a pretty dull film. Jessica Chastain is brilliant in it. And I suspect she will be rewarded with an Oscar nomination for best actress—and quite possibly, the award itself. The Academy loves to reward biopic 'transformations' and Chastain (Zero Dark Thirty, Molly's Game) certainly disappears into the role–and makeup–of the late celebrity televangelist Tammy Faye Bakker Messner. She even does her own singing, belting out some of Tammy Faye's signature gospel tunes.
The screenplay is based on the 2000 documentary of the same name that was narrated by RuPaul and captivated Chastain. The actress bought the rights to Tammy Faye's story in 2012, knowing in her gut I suppose that she was fully equipped to give proper dramatic homage to Tammy Faye's rise and fall—and redemption.
The film follows Tammy Faye from her early devotion to God through to meeting her husband Jim Bakker (Andrew Garfield) at Bible College, working with him to build a global ministry, standing by him initially through a financial, sex and drug scandal, and eventually divorcing, remarrying and reclaiming the stage in all her colorful personality glory.
I remember watching the PTL scandal unfold in the 1980s and not feeling particularly sympathetic toward Tammy Faye who seemed as fake as her trademark eyelashes. If nothing else, the film does a decent job draping Tammy in a fur cloak of sincerity, and painting Jim Bakker as a whiny, bible-thumping con artist determined to trump the likes of his televangical brethren Pat Robertson, Jimmy Swaggart and Jerry Falwell.
Chastain and Garfield (The Amazing Spider-Man, Hacksaw Ridge, 99 Homes) are both incredibly versatile actors who are always interesting to watch. And that is what saves The Eyes of Tammy Faye from putting you to sleep. Just as Rene Zellweger won the Oscar for portraying Judy Garland in the mediocre biopic Judy, Chastain stands a strong chance of winning for this mediocre biopic.
The Eyes of Tammy Faye is rated PG-13 and contains some mature themes unsuitable for younger kids– not that they'd have any interest in seeing this anyway. It's not Spidey.