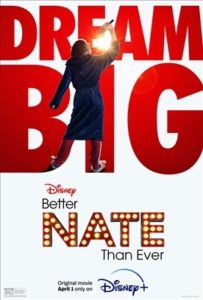 The DUMBO in the room with Disney's family-friendly musical dramedy Better NATE Than Ever is the irony of timing–as the film's release just happens to coincide with the passage of Florida's ridiculous 'Don't Say Gay' bill. Nate is a charming little message movie that draws from the likes of Billy Elliott, Adventures in Babysitting, and Ferris Bueller's Day Off— if Ferris were in middle school, and a musical theater geek struggling to find his place and his people. That place is Broadway baby!
Better NATE Than Ever is a semi-autobiographical story inspired by writer/director Tim Federle (creator of High School Musical: The Musical: The Series) who adapted the screenplay from his 2013 novel. It tells the story of 13-year-old Nate Foster (Rueby Wood), a kid from small-town Pennsylvania who dreams of making it big on Broadway but can't even land a decent role in the school play. He's got a style all his own (think: Billy Porter-esque) that few seem willing to accept let alone embrace. Fortunately, his best friend Libby (Aria Brooks) has his back, though she is a bit slow to catch on to his friend-zone-only vibe.
When Nate's parents go away for the weekend– leaving him in the "care" of older brother Anthony (Joshua Bassett)– Nate and Libby sneak off to NYC for a once-in-a-lifetime opportunity to audition for a Broadway production of a Lilo & Stitch musical. Nate's shot at the big time almost goes bust immediately but is saved by a chance encounter with his estranged Aunt Heidi (Lisa Kudrow). She's an actor/cater waiter in the Big Apple who had a falling out with Nate's mom years earlier. Will Aunt Heidi send Nate packing on the next bus home– or help him pursue his passion? Since this is a feel-good movie about dreams, acceptance, friendship, and family reconciliation, you know where the story is going, and that's okay. It's a sweet little ride.
Better NATE Than Ever premieres April 1 exclusively on Disney+.
No Comments Yet
You can be the first to comment!
Leave a comment