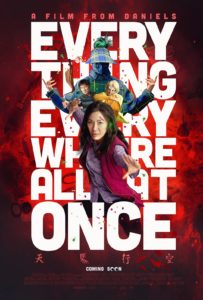 At the center of this wild ride of an action/sci-fi flick is Chinese immigrant mom Evelyn (Michelle Yeoh, Crazy Rich Asians, Shang-Chi) whose life definitely took a wrong turn somewhere. Stuck in a boring marriage to Waymond (Ke Huy Quan, Goonies), running a coin-op laundry, regularly tangling with her lesbian daughter Joy (Stephanie Hsu, "The Marvelous Mrs. Maisel") who disappoints her again and again, and on her way to an audit by an unforgiving IRS agent (Jamie Lee Curtis), she's woefully unprepared for the role suddenly thrust upon her as the savior of the universe. But she really has no choice in the matter.
The gist of this mind-bending, kung-fu filled romp is that there are multiverses, duh! Every choice we make in life creates another of them. And in this case, the universe is going to be destroyed unless Evelyn can muster the forces of all the various versions of herself to take on Jobu Tupaki (also played by Hsu) whose sole aim is to destroy it all.
The action begins in the elevator on the way to the audit. Suddenly Evelyn's kind but boring husband Waymond is taken over by another assertive Waymond from one of the other multiverses who tells her about the threat to the universe and how she has to step up and become the woman she was born to be to stop it. Of course she doesn't believe a word of it, but then despite herself as she sits in front of the auditor, she follows the written directions he handed her in the elevator and suddenly she can see all the other lives that were possible, and she's sucked into the battle to end all battles.
One of her other paths was as a kung-fu master, which comes in very handy as she takes on all the baddies in her way. It also takes Michelle Yeoh back to her Crouching Tiger, Hidden Dragon glory. That an older woman is such an action badass is a beautiful thing!
As crazy and fun as the whole film is, the story at the center is about family, particularly the mother-daughter relationship. Jobu Tupaki is the culmination of all the slights and deficits in Evelyn's life with Joy, and the way to save the universe boils down to mending that relationship. Perhaps it's a bit hokey, but it's not the only thing you take away from this totally over-the-top flick. Yeoh is fabulous, as is Hsu. And I was happy to see Quan back on screen after all these years.  The script is very funny at times, the fighting inventive, and the story will have you scratching your head (in a good way) for days! It's a totally enjoyable ride and I highly recommend it to wide audiences (at least those who are willing to read some subtitles part of the time). I don't usually do repeat viewings, but this one just might pull me into the theater again. It's that much fun!!!
In English and Chinese (with subtitles). In theaters April 8.