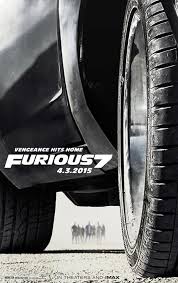 Furious 7 is totally absurd. The stunts defy all laws of physics and gravity. The acting and the dialogue are inconsistent. And yet, it's still a fun ride. No wonder Dame Helen Mirren wants to play a villain in the next one!
I didn't see the first four installments of the Fast and Furious franchise, but I became a fan with 5 and 6. They are guilty-pleasure movies, pure and simple, delivering a consistent formula of action, special effects, scantily-clad bods (male and female), bonding, romance, bromance, and family dysfunction – all delivered with a wink and a nod.

The movie features the return of Vin Diesel, (the late) Paul Walker, Dwayne 'The Rock' Johnson (who looks freakishly huge), Michelle Rodriguez, Jordana Brewster, Tyrese Gibson, Chris 'Ludacris' Bridges, Elsa Pataky, and Lucas Black. The plot is similar to its predecessors – having something to do with the team getting together in souped-up cars to steal something from some bad guys (including, in this case, a seemingly unstoppable and unkillable villain played by Jason Stratham, who's got a score to settle with our heroes). There are lots of bullets, explosions, car chases, crashes, cat fights, and one-liners that elicit plenty of cheers, chuckles and groans from the audience. It's a communal experience all around… in all its extremely loud IMAX glory.
Furious 7 is not as good as 5 and 6, and it runs too long, but fans of the franchise are likely to turn out in droves, for the movie itself, and its final tribute to Paul Walker who died in a car crash in 2013 when the movie was almost, but not quite finished. His look-alike brothers helped the filmmakers get their final shots, and the movie ends with a scene that serves as a sweet and somewhat heartbreaking tribute to Walker. No spoilers here – but it does provide some closure for the character, while still leaving the door open for the franchise to drive on…
1 Comments
Leave a comment