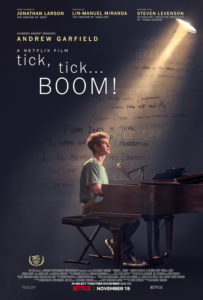 Tick, Tick…Boom! Andrew Garfield is dynamite and so is this film–especially if you're a musical theater geek. Pulitzer Prize and Tony Award winner Lin-Manuel Miranda (In the Heights, Hamilton) makes his feature directorial debut with Tick, Tick…Boom!, an adaptation of the autobiographical musical by Jonathan Larson, the creator of the hit musical Rent. Larson died suddenly of an aortic aneurysm in 1996, just as previews for Rent were about to begin off-Broadway. The film is essentially a love letter to and by Larson.
The majority of the film takes place in New York City in 1990. Larson (Garfield)– about to turn 30– is at a crossroads. He dreams of creating the next great American musical and has the talent to do just that. He just needs that one big break. And one more song.
The clock is ticking. Tick, tick, tick…
Over the course of eight days, we see Larson juggling love, friendship, and the pressures of life as an artist on the cusp of a breakthrough–or maybe a breakdown. He waits tables at a New York diner to make ends meet while putting the finishing touches on a showcase of a musical called Superbia that he hopes to present to Broadway bigwigs like Stephen Sondheim (Bradley Whitford). His passion project is all-consuming, leading to strained relations with his girlfriend Susan (Alexandra Shipp,  Love, Simon) and best friend Michael (Robin De Jesus).
The supporting cast is all great, including Judith Light in a small but pivotal role as Larson's agent Rosa Stevens, and Joshua Henry and Vanessa Hudgens as singers in Jon's showcase. On top of that, there is one particular scene that is sure to delight diehard Broadway buffs. (Can't say more than that. You'll either know who's who or you won't). The cast is brimming with talent that bridges the stage and screen. But it's Garfield who captivates and carries the weight of the film. His versatility continues to amaze. From Spider-Man to 99 Homes to Hacksaw Ridge to The Eyes of Tammy Faye… the American-British actor fully commits to his characters. For his role as Jon Larson, he even learned to sing.
Larson himself performed "Tick, Tick Boom" as a one-man rock monologue at a NYC Theater workshop while he was developing the rock opera "Rent" (loosely based on Puccini's La Boheme). The film touches on many of the themes reflected in Larson's creations, including an artistic community that was being ravaged by AIDS, friendships that were built and broken, financial stresses, and personal and professional choices with complicated consequences. Do you give up on your dreams, or keep plugging away?
Larson died just as his dream was coming to fruition. Tick, Tick…Boom is a fitting tribute to the man and his legacy. And Garfield deserves an Oscar nom, and maybe even the win!
Tick, Tick…Boom! is in theaters, and starts streaming on Netflix November 19th.