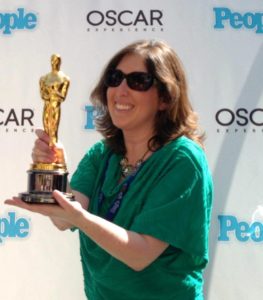 [Post-Oscars Update: I did okay! Though I could not have predicted the Chris Rock-Will Smith debacle; there's no excuse for the show cutting out eight worthy categories from the live show while including unnecessary bits and still running a bloated 3:40; Amy Schumer was the best of the hosting trio; I still think Andrew Garfield should've won best actor (and wouldn't hit anybody); and most importantly– yay, CODA!!!!!]
I'm making my picks with the Oscars just a few short hours away. I have no idea what will win this year. I have my favorites of course, but that doesn't translate into Oscar gold, or Oscar pool/party bragging rights (though how I do miss those—maybe next year!).
The past few years, I'd seen just about everything on the ballot, including the shorts. But this year, I'm coming up, well, short. So I'll just make my predictions with all sorts of caveats and maybe delete this whole post tomorrow! 
Here goes:
Best Picture: I really want CODA to win. It was number 2 on my annual top 10 list (just behind my favorite Covid-protocol theater escape movie Spiderman: No Way Home) because unlike every other nominee, nobody I know who saw CODA didn't love it. That should mean something.
Directing: Apples and oranges. You've got a bunch of well-directed movies representing very different genres. I would love to see Spielberg win for West Side Story, but he won't. I'm guessing Jane Campion for The Power of the Dog—which I'll be okay with, as long as The Power of the Dog doesn't win Best Pic.
Actress in a Leading Role: Jessica Chastain will probably win for The Eyes of Tammy Faye. The film itself is weak, but Chastain disappears into the role, and the Academy loves to award those transformations. Stewart, Kidman, Colman and Cruz were all good too.
Actor in a Leading Role: I know the money is on Will Smith for delivering a very good performance in a so-so movie. But boy, what I wouldn't give to see Andrew Garfield win for his amazing performance in tick, tick,…Boom). Garfield's talent and versatility are off the charts (see: Spiderman: No Way Home, Eyes of Tammy Faye, and tick, tick…Boom)
Actress in a Supporting Role: All the nominees delivered solid performances in very different films. I give the edge to Ariana DeBose (Anita in West Side Story), a triple-threat whose win will check off lots of boxes for representation.
Actor in a Supporting Role: If Troy Kotsur wins, it will be a victory for deaf actor representation but also a hopeful sign that CODA could pull off Best Picture at night's end. On the flip side, if Kodi Smit-McPhee wins for The Power of the Dog…
Original Screenplay: I haven't seen The Worst Person in the World, though I hear good things. My sentimental pick in this category is Kenneth Branagh's autobiographical film Belfast.
Adapted Screenplay: My sentimental pick is of course CODA, because it translated into pure joy. Everything else was a bit of a downer.
Animated Feature: I liked Encanto, and a victory for Flee would carry some significance, but gosh, I would love to see The Mitchells vs. the Machines pull out the win. It was awesome.
Documentary Feature: Summer of Soul is that perfect combination of entertaining and informative. Let's show QuestLove some awards love for bringing this lost piece of music history into our orbit!
International Feature Film: Confession: I did not get through all three hours of Drive My Car. But I think it will win… if the bulk of Academy voters watched the whole thing. Otherwise, it's a toss-up.
Cinematography: I don't know. The Power of the Dog had the sweeping western vibe thing going for it. So does Dune. Does West Side Story have a shot? I'll predict The Power of the Dog, but this one feels like a toss-up. (And I haven't seen Nightmare Alley or Tragedy of Macbeth).
Film Editing: I don't know about this one either. Would love it to be tick, tick…Boom! But I doubt it will be. Surprise me, Academy!
Costume Design: I'm okay with this one going to the film that's all about costume design, Cruella.
Makeup and Hairstyling: If Jessica Chastain wins best actress, it will be largely thanks to makeup and hairstyling. So I pick The Eyes of Tammy Faye.
Original Score: This is tough. I appreciate what the score brings to all the nominated films. I wasn't a fan of Dune but it's hard to quibble with Hans Zimmer 'scoring' an Oscar. (note: I did not see Parallel Mothers)
Original Song: It is highly unlikely that either of my personal favorites — "Down to Joy" (Belfast) and "Somehow You Do" (Four Good Days)—will win. So I predict with some bitterness that it will probably be the song nominated from Encanto, No Time to Die, or King Richard.
Sound, Production Design, Visual Effects: I have no idea. But the big sci-fi movies like Dune usually have an edge. Though I'm rooting for West Side Story to get in on the action.
Documentary, Live Action, Animated Shorts: For the first time in years, I haven't watched all the shorts. My bad, cause I really enjoy the unique mix of mini-movies. I did watch The Queen of Basketball and Audible, and I give Queen the edge. The Long Goodbye gets the edge for live action because it has a recognizable lead in Riz Ahmed. I have no pick for animated.
There you have it. Happy viewing. If the trio of hosts are good, and the musical performances are good, and the show provides some surprises and ends at a reasonable hour, then we all come out winners. Til next year.