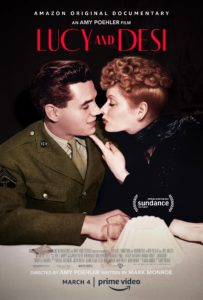 Everybody loves Lucy. So it only follows that everybody will at least like the documentary Luci and Desi about the mutually dependent success of one of Hollywood's original power couples, Lucille Ball and Desi Arnaz. The film explores the partnership and legacy of the pair who first met on the set of the 1940 musical comedy Too Many Girls, got married, started a family, created DesiLu productions, developed and starred in the iconic sitcom I Love Lucy, divorced in 1960 after the last Lucy episode was filmed, and remained lifelong friends.
Luci and Desi is presented with a light touch meant to celebrate Lucy and Desi, their talents, and their influence. The film, directed by Amy Poehler in her documentary debut, incorporates home movies and audio tapes made available by the family, so the story is often told in Lucy and Desi's own words. There's something both nostalgic and fresh in seeing and hearing them with their guard down, even if the film does skirt over and around a variety of issues (communism, infidelity, cast discord) that take center stage in the recent drama Being the Ricardos. The documentary and the feature film are filtered through different perspectives but complement each other in many ways, i.e. it's okay to see them both!
There's plenty to learn and appreciate in the documentary. It traces how Lucy and Desi came from very different backgrounds to find success as true industry trailblazers, with I Love Lucy serving as a metaphor for what was happening in their lives offscreen (a steady stream of goofs and repairs rooted in unconditional love.) Desi was a refugee from Cuba whose family lost everything during the Cuban revolution of 1933; he became a band leader, actor, producer, entrepreneur, and technical pioneer. Lucy started her career as a model, chorus girl and actor in the studio system; she found her calling for comedy on the radio and was able to transition brilliantly to television.
Separately, and together, they brought us classic reruns, a whole lot of laughs, and– the conga line!
Lucy and Desi premieres March 4 exclusively on Amazon Prime Video.