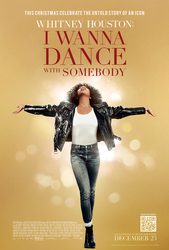 Here's what I wanna do after watching Whitney Houston: I Wanna Dance With Somebody: 1) surf YouTube for real clips from all the great moments showcased in the film, including Whitney's 1983 TV debut on the Merv Griffin show; her unrivaled rendition of the Star Spangled Banner at Super Bowl XXV; her iconic medley at the 1994 AMAs; and her 'comeback' performance on Oprah in 2009; and 2) re-watch 1992's The Bodyguard for perhaps the gazillionth time. One of my favorite scenes in the biopic is when Houston learns that Kevin Costner will be leading the romantic drama and wants her to co-star. Where do I sign!?
As music biopics go, I Wanna Dance With Somebody is not destined for Whitney greatness, hard as it may try (with the same creative team behind Bohemian Rhapsody.) The music soars, but the narrative construct struggles. Kudos to British actress Naomi Ackie for embodying Whitney across years of iconic wardrobe and hair changes, and singing along to Whitney's killer tracks with pinpoint precision. If only the film had a stronger, less frenetic storyline. The choppy narrative is woven between musical moments–constantly teasing us with the promise of a deeper dive that never does surface…Whitney's complicated relationship with friend, lover and confidante Robyn Crawford (Nafessa Williams); her complicated relationship with bad boy hubby Bobby Brown (Ashton Sanders); her complicated relationship with her mother Cissy (Tamara Tunie) and father John (Clarke Peters); and her complicated relationship with drugs and alcohol.
The relationship that presents as far less complicated, yet most endearing, is Whitney's special connection with legendary music producer Clive Davis (Stanley Tucci) who is credited with discovering Whitney, cultivating her talents, and putting her on the road to stardom. Davis, now 90, produced the film and is obviously quite protective of Whitney's legacy. I Wanna Dance With Somebody could've easily stretched into darker, 'R'-rated territory given its content around sexuality and drug use. Instead, it's PG-13. What defines Whitney throughout the two-and-a-half-hour film is the music itself, and that voice. I'd forgotten just how prolific and powerful she was in her hey-day. Among the 22 classic recordings remastered for the film: Greatest Love of All; Home; You Give Good Love, Where Do Broken Hearts Go, Saving All My Love; How Will I Know; Run to You; I'm Every Woman; and of course, I Will Always Love You. So Emotional, baby!
Ultimately, I Wanna Dance With Somebody is a love letter to Whitney– a celebration of all she accomplished, tinged with sadness and regret for what was lost when she died from a drug-related accidental drowning in a hotel bathtub in 2014. She was 48.
'Whitney Houston: I Wanna Dance With Somebody' opens in theaters December 23.