With Arty Chick off to parts unknown to direct a documentary, it's possible her reviews will be fewer and farther between for a while. So I will try and highlight some of the artier films that I happen to see (and like). I'll also note if they've been discussed on my weekly podcast, "The Cinema Clash" with Charlie Juhl, who tends to share Arty Chick's passion for smaller, indie and foreign films. If we both a like a particular film, there's a good chance you will too! Topping my list of recent forays into foreign-film land is the Oscar-nominated German film, Never Look Away. It's part psychological drama, part war drama, part period romance. It takes place over the course of about 30 years, which helps explain the film's three-hour running time.

Never Look Away is loosely inspired by the life of German painter Gerhard Richter who witnessed the horrors of World War II as a young child and leveraged his life experiences to create great works of art. The film tells the story of a soulful young boy named Kurt (played by Cai Cohrs, then Tom Schilling) who is introduced to art by his free-spirited aunt, then eventually goes to art school where he meets the love of his life, Ellie (Paula Beer). There's a dark connection between Ellie's father (Sebastian Koch) and Kurt's past that reveals itself as the story unfolds. I'll keep the rest of the plot under wraps because part of what makes this film so absorbing (apart from great performances) is that you don't really know where it's headed. It goes to some painful places but ultimately champions life, love and freedom of expression. It's hard to commit to a three-hour film (with subtitles no-less!), but Never Look Away is worth the time. (Note: there's quite a bit of nudity so you don't want to be watching it with the young 'uns present).
For more on Never Look Away, as well as the sci-fi fantasy movie Alita: Battle Angel and a little gem of a tragicomedy called To Dust, starring Géza Röhrig and Matthew Broderick, take a listen to this edition of The Cinema Clash: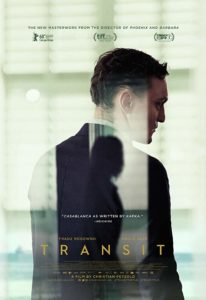 Another compelling drama out of Germany is the film Transit, based on the 1944 novel by Anna Seghers. The adaptation blends past and present, drawing on themes that are simultaneously historical and current as they relate to politics, war, xenophobia, and the plight of refugees. I've seen it labeled a "modern Holocaust" film but also a drama, a film noir, and to some degree, a romance in an existentialist Casablanca sort of way. The story centers on a German refugee named Georg (Franz Rogowski) who flees from Paris to the French port city of Marseilles in the hopes of securing passage to North America. He comes into possession of a dead writer's transit papers to Mexico and ends up assuming the man's identity. But the ruse takes a toll on Georg as he starts to make some poignant connections with others in Marseilles, including a young immigrant boy and his mother, as well as the writer's estranged wife Marie (Paula Beer, Never Look Away, Frantz). Transit is mostly in German and French with English subtitles. It's interesting and timely, yet timeless.
Woman at War is a quirky little film out of Iceland about a middle-aged woman named Halla (Halldóra Geirharðsdóttir) who leads a double life as a quiet, unassuming choir director and a bold environmental activist (some may say eco-terrorist) known only as "The Woman of the Mountain." Halla is determined to protect the natural landscape from politicians and special-interest groups intent on expanding the aluminum industry in Iceland. But just as she's about to launch her most daring bit of sabotage yet, she learns that a long-held dream to adopt is finally coming true and there is a child in Ukraine waiting on her. The personal stakes are suddenly higher and way more complicated. Woman at War is an empathetic eco-thriller with a sharp comedic edge, punctuated by a "Greek chorus" in the form of an accordion-tuba trio and Ukrainian folk singers who pop up in the most random of places throughout the film.
For more on Transit and Woman at War (plus Captain Marvel), tune in to this edition of The Cinema Clash: