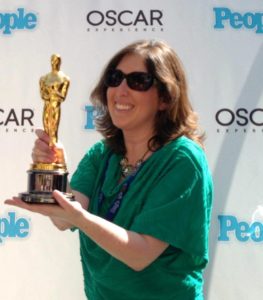 UPDATE: In what I found to be a rather boring presentation of the awards, I ended up with a score of 16/23. Not too bad all things considered. It was a weird year in film – and life. I look forward to next year and hope it is filled with more joy – and music! -hb
Let's just go ahead and make it official – my picks for the 93rd annual Academy Awards being handed out Sunday, April 25, 2021 after a long COVI-Delay. I discussed them all with my cinematic nemesis Charlie Juhl on a recent episode of "The Cinema Clash." But just in case you missed it (wine wager and all) and/or haven't filled out your own ballot yet… this may or may not help your chances of winning the remote office pool! I don't know the order in which the awards will be announced, so I'm following the Oscars 2021 Play Along Ballot, except for Best Picture, which I'm saving for last. So, without further ado…
ACTOR IN A LEADING ROLE: I'm going with the late Chadwick Boseman for his performance in Ma Rainey's Black Bottom. In any other year, I'd have gone with Riz Ahmed for Sound of Metal, but Boseman deserves every opportunity to be remembered for the great talent he was. (update: In biggest surprise of the night – unless you subscribe to the  #OscarsSoOld theory – Anthony Hopkins, 83, won for his excellent performance in a movie that I did not particularly like, The Father. Hopkins did not attend the ceremony and paid tribute the next day to Boseman in an Instagram post. ) 
ACTOR IN A SUPPORTING ROLE: This is a really tough category, but the awards momentum appears to be favoring Daniel Kaluuya for his performance in Judas and the Black Messiah. So I'll stick with Kaluuya, even though I really, really liked Paul Raci in Sound of Metal. (update: got this one right)
ACTRESS IN A LEADING ROLE: Frances McDormand may nab this. Or Viola Davis. Or Andra Day. Or longshot, even Vanessa Kirby. But I'm sticking with my heart on this one and picking Carey Mulligan for her insanely versatile performance in Promising Young Woman. (update: It went to McDormand, which I suspected it might; still think Mulligan deserved it.)
ACTRESS IN A SUPPORTING ROLE: Another tough category but I'm going with my gut and the scene-stealing performance of Yuh-Jung Youn as the Grandma in Minari. (update: got this one right. and how cute was she gushing over presenter Brad Pitt?)
ANIMATED FEATURE FILM: I would love to see Wolfwalkers win, but it won't. The safe bet here is SOUL. (update: played it safe and got it right)
CINEMATOGRAPHY: I wasn't a huge fan of the Nomadland narrative, but I did love the cinematography and it made me yearn for a roadtrip. So that's my pick. (update: this was a surprise win for Mank – another movie that apparently "looked" better than it actually was. But Hollywood likes to pat itself on the back.)
COSTUME DESIGN: It would be nice to see EMMA get some love, but something tells me Ma Rainey's Black Bottom has the edge for this one. (update: got it)
DIRECTING: Chloe Zhao seems a lock for Nomadland – if nothing else then to piss off China. (update: you go girl! Zhoa wins)
DOCUMENTARY FEATURE: I'm picking the Romanian documentary Collective because it was by far my personal favorite of the docs. Though I suspect Time may win because it feels, well, timely. And it's in English. (update: My Octopus Teacher pulled out a somewhat surprising win here, except it benefitted from the Netflix marketing machine and WOM. Nobody saw Collective so it really had no chance).
DOCUMENTARY SHORT SUBJECT: I love all the shorts. But they are apples and oranges. I'm going out on a limb picking Hunger Ward because it hit me the hardest. But it's about Yemen, so it's a tougher sell. A Love Song for Latasha may resonate more with the times. (update: lesson learned: never underestimate a Holocaust-themed movie of any length. Colette came away with the win.)
FILM EDITING: Sound of Metal. Cause it deserves it. (update: a deserving win!)
INTERNATIONAL FEATURE FILM: Another Round isn't really the best of the bunch, but it does end with Mads Mikkelson dancing in the street, and the Academy may want to throw a bone to its Oscar-nominated Danish director Thomas Vinterberg. (update: as expected, it won, giving Vinterberg an opportunity to speak and pay moving tribute to his late daughter). 
MAKEUP AND HAIRSTYLING: Ma Rainey's Black Bottom. Because I have at least a 50/50 shot of it getting Costume or Makeup/Hair. If not both. (update: got the win)
ORIGINAL SCORE: Does anyone ever really remember the score? The nominees all serve their movies well, but SOUL feels like the front-runner. (update: sure enough, SOUL won)
ORIGINAL SONG: See above. The songs all serve their movies well. But I'm going to give the edge to "Speak Now" and Leslie Odom Jr. from One Night In Miami. (update: Thinking back, I should have stuck with my original instincts about "Fight for You" from Judas and the Black Messiah – which won this category)
PRODUCTION DESIGN: Mank. This is one of the only nominees I haven't seen, and while nobody seemed to rave about the film itself, I did hear good things about the production design. (update: Sure enough, Mank nabbed this one)
ANIMATED SHORT FILM: If Anything Happens I Love You. Burrow is cute, but If Anything Happens… is a punch in the gut. (update: a win for the punched gut).
LIVE ACTION SHORT FILM: Another really tough category of apples and oranges. I'm leaning toward Feeling Through, though I also have a soft spot for The Present and Two Distant Strangers. I wasn't a fan of The Letter Room, though it does feature a "name" in Oscar Isaac. (update: I'm okay with losing this one to Distant Strangers. As I said, they were all good.)
SOUND: What part of Sound of Metal don't you get? (update: Sound it is!)
VISUAL EFFECTS: I confess. I did not see Tenet. But I'm sure it was visually captivating if nothing else. (update: unseen Tenet for the win)
ADAPTED SCREENPLAY: This could go a lot of different ways, but I'm putting my fake money on Nomadland. (update: In the earliest disappointment for me of the night, The Father won this, somewhat foreshadowing Sir Anthony Hopkins' win for Best Actor). 
ORIGINAL SCREENPLAY: If Promising Young Woman doesn't get this, I will be most upset, because it is most deserving. Tough competition though. (update: Phew, I'll take it!)
BEST PICTURE: Promising Young Woman was my personal favorite. I also liked Minari, Sound of Metal, Judas and the Black Messiah and, to a lesser degree, The Trial of the Chicago Seven. That said – I'm going with Nomadland for the win. (update: do I get extra points for going against my heart and picking this correctly? Congrats Nomadland.)
[The Oscars aired live Sunday April 25, 2021 at 8pmET/5pPT on ABC.]