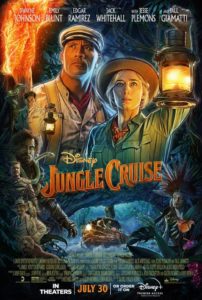 Is it safe to cruise again? Cinematically speaking, yes. Jungle Cruise is a fun ride, thanks in large part – okay, almost entirely – to the likability of its stars, Dwayne Johnson and Emily Blunt. The film is loosely based on a Disneyland theme park ride that takes travelers downriver, through a jungle filled with wild animals and supernatural stuff. I don't recall ever taking the ride, but I'm pretty sure that's where the similarities end. As a movie, Jungle Cruise skims across the water as a lightweight family-friendly comedy adventure in the vein of Pirates of the Caribbean (also a Disney ride), Indiana Jones, The Mummy and National Treasure. And if you like puns, as I do, you're guaranteed a good chuckle at least every few minutes.
Blunt plays Dr. Lily Houghton, a headstrong researcher from London who travels to the Amazon with her wimpy brother MacGregor (Jack Whitehall) in the early 1900s, to search for an ancient tree believed to possess healing powers that could change the future of medicine. To guide her on the quest downriver, Lily enlists the services of a wisecracking skipper named Frank Wolff (Johnson) who takes them aboard his ramshackle boat, La Quila. The epic adventure is fraught with all sorts of dangers, as they are also being chased by the campy villain Prince Joachim (Jesse Plemons) who wants to find the mystical tree for less altruistic purposes.
The banter, distrust and spark between Lily and Frank drives the film- and the fun. Blunt (A Quiet Place, Wild Mountain Thyme, Mary Poppins Returns, Edge of Tomorrow, The Devil Wears Prada, etc.) and Johnson (Jumanji, Moana, San Andreas, Fast and Furious, Baywatch, etc.) are both adept at mixing comedy, action and drama, and seem totally in their element here. Jungle Cruise is at its best when the two fill the screen, exchanging barbs. The film cruises along at a steady clip under the direction of action thriller aficionado Jaume Collet-Serra (The Commuter, The Shallows, Run All Night, Non-stop), though it does run adrift briefly about midway through when leaning on a wave of exposition to fill in Frank's backstory. Fortunately it corrects course in time for the requisite happy endings.
Jungle Cruise releases in theaters and on Disney+ with Premium Access (i.e. an extra charge) on July 30.